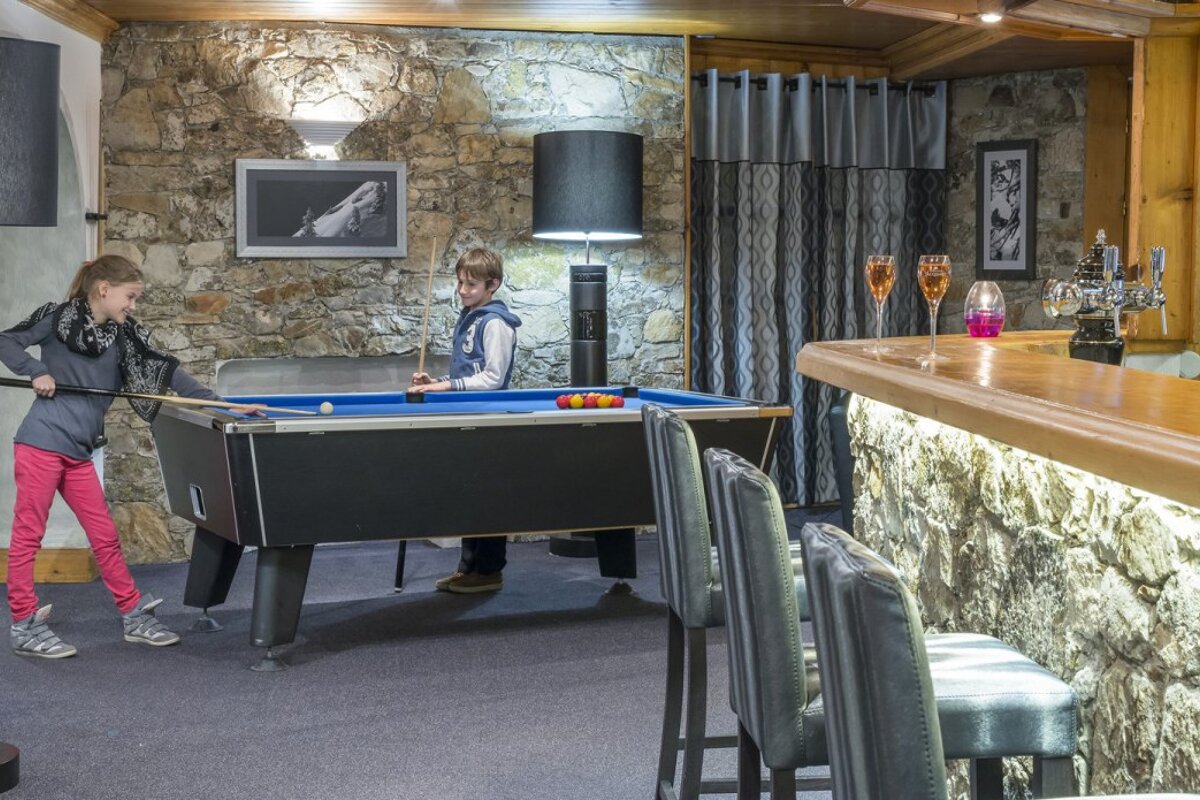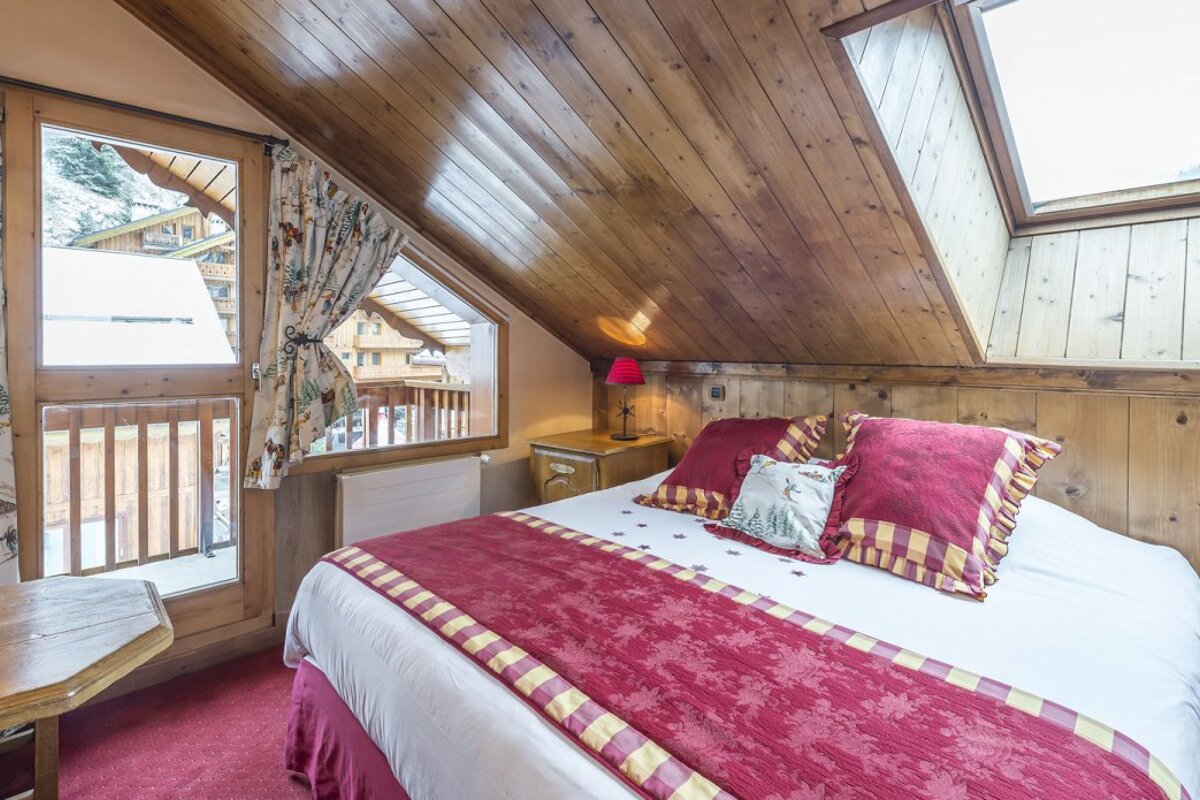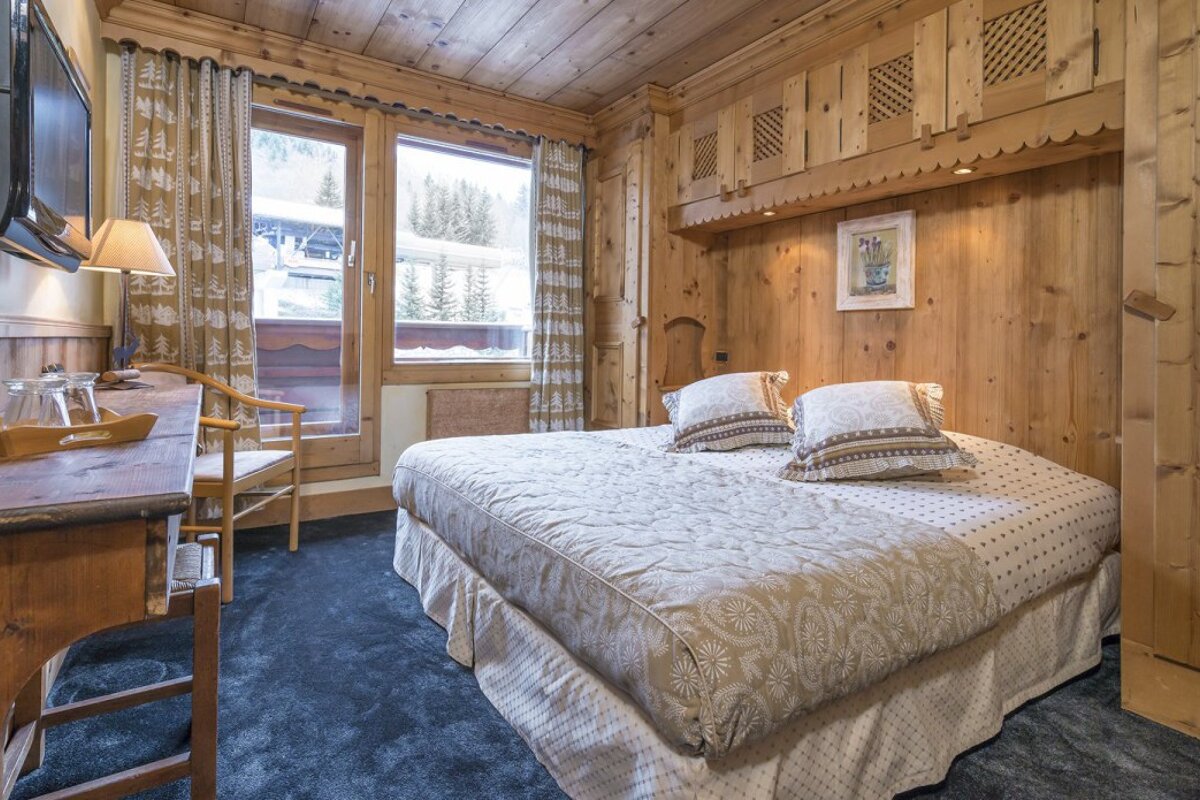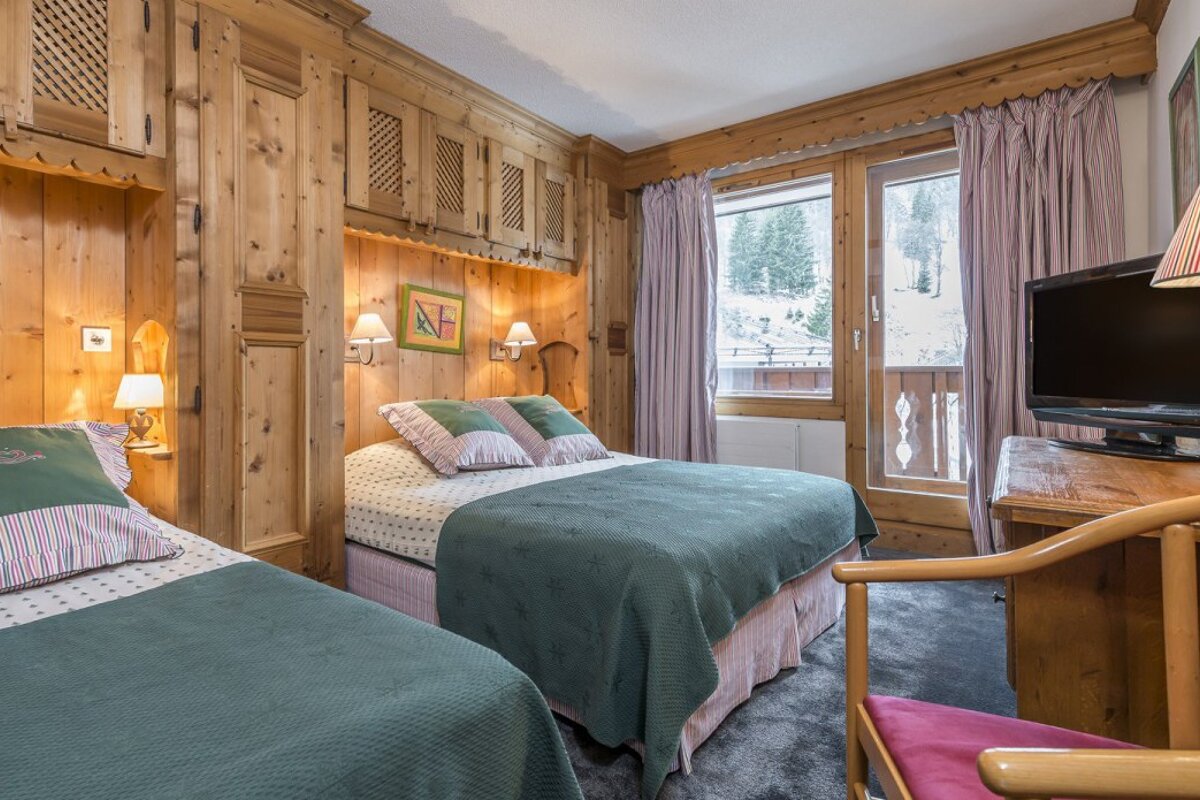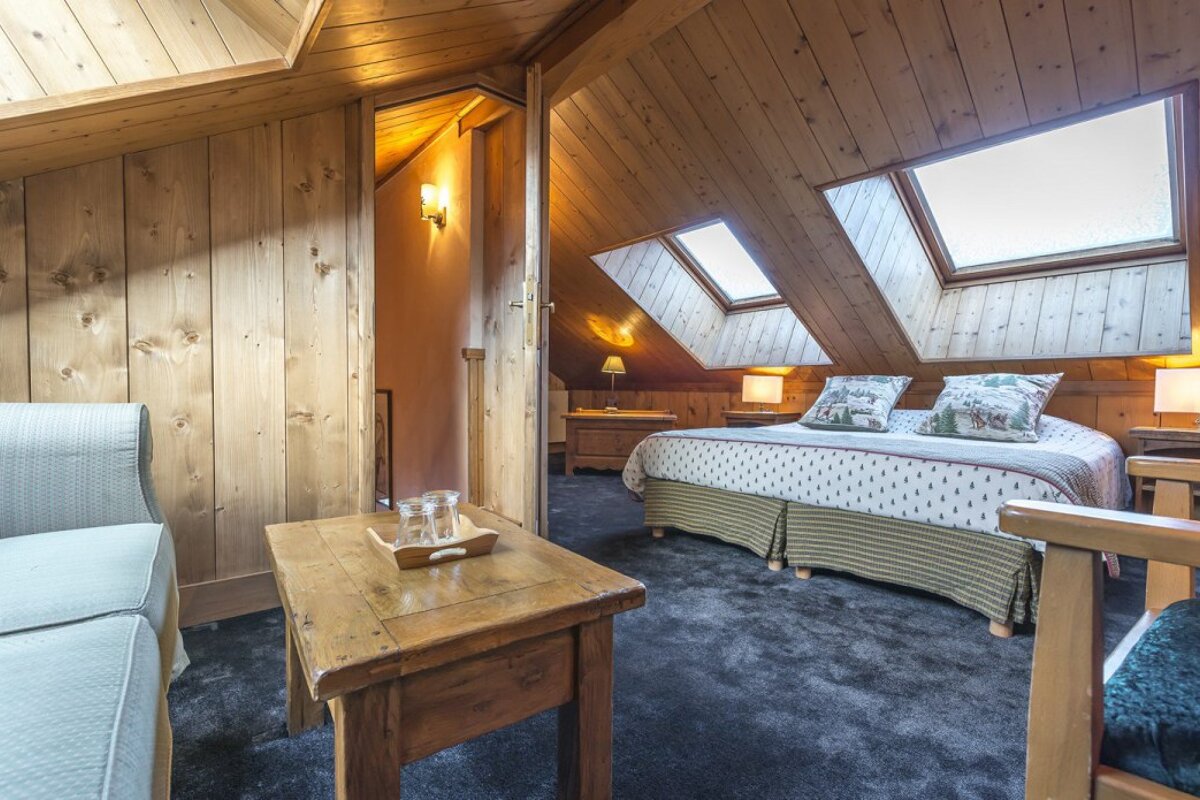 L'Eterlou Hotel, Meribel
Family friendly hotel with access to spa treatments, heated outdoor pool, hammam & sauna
This charming Savoyard hotel is perfectly situated in the heart of Meribel just 50 metres from the main lift station (Chaudanne) area of Meribel Centre.
The cosy warm interior is inviting and has been decorated in a traditional chalet style using plenty of wood and bright fabrics.
The hotel has a total of 41 rooms, with a selection of single, double, family rooms and suites. All the rooms include sateliite TV, safe, mini-bar, Nuxe bath products, Hair-Dryer, slipper, dressing-gown and free WiFi access. Some of the rooms also include a balcony.
Pets (cats and dogs) are welcome to join you on your ski holiday at this hotel for an additional supplement.
As well as hotel beds, there are various apartments within the hotel available from studios to three bedroom apartments where can have the privacy of your own self-contained living space whilst being able to take advantage of the hotel's amenities and services.
For relaxation and pampering whilst you are on your holiday, take advantage of the hotel's NUXE spa where you can indulge in a massage or a beauty treatment using their expert RESULTIME anti-ageing facial products. The spa has six treatment rooms and you can make use of the sauna and hammam, which are next to the outdoor pool, to help you unwind further.
The hotel is open for the winter season, from December through to April.
Reviews
187 verified reviews by
"Very Good"
Good to know
"Bathroom could be optimized"
"Very Good"
Good to know
"Great wellness & sports facilities"
"Very Good"
Good to know
"More comfort would be nice"
The Pool
The outdoor heated pool that is open all year around and faces the slopes so you can enjoy the stunning scenery whilst you do a couple of relaxing lengths.
The Bar
The spacious bar and lounge area includes plenty of leather arm chairs where you can relax with a house cocktail or a mulled wine after an active day on the mountain. For those that are feeling a bit peckish, the bar includes its own snack menu to tie you over until dinner time.
The Restaurant
The traditional Alpine restaurant, La Grange, within the hotel offers a wide variety of international dishes. Start your day with an energising breakfast and enjoy lunch on their south facing terrace which offers an opportunity to do some sunbathing as well as a delicious menu to keep you going whilst out and about. For dinner, the new Chef, Olivier Montesino, offers a revamped gourmet brasserie menu.
Visitor comments
"I couldn't fault this hotel in any way! It was a perfect location, wonderful food, cosy and homely rooms and the best service we could have asked for. We went to Meribel for Christmas this year on a family holiday for a week. My main comment regarding the hotel would have to be that we were treated excellently by the hotel staff - particularly the ladies in the restaurant who were very attentive, chatty and polite! The hotel itself is brilliant - nice quaint, cosy rooms with a lovely little balcony. The restaurant and breakfast area is delightful, lots of lovely wooden beams, an open fire, comfy chairs and plenty of space. The outside heated pool was a lovely treat after a tiring day of skiing, and we all enjoyed an evening swim each night. We had breakfast every morning and a three course dinner each evening - every meal I ate was delicious! There was a choice of two starters, two mains and one desert. If you don't fancy any of these options, you are able to select a meal off the restaurant menu totalling the same cost. We didn't realise this while we were staying and only read it afterwards, however we didn't mind too much as all the meals were to our taste. The location also couldn't be better, a very short walk from all the main ski lifts in Meribel. In summary, we couldn't have asked for more! We had a lovely Christmas thanks to this hotel." - Trip Advisor
"There were 12 of us in total, 6 adults and 6 teenagers between the ages of 13 and 17. Only 2 families booked originally as our friends only came last minute they had to have one of the 4 person rooms which was a bit tight for space but they were last minute. I don't think one of us had a complaint over the entire week. Ok the rooms could be a bit bigger, but all really clean. The food was good although some times the set menu was a bit unusual!!! This was soon fixed for the kids via a comprehensive choice of pasta dishes each evening. The location of the hotel is excellent, right next to the slopes and right in the thick of it with regards to the après. Every member of staff was first class and dealt with every request made with a smile on their face. We had a great time and really enjoyed ourselves, we will be back." - Trip Advisor
"Overall we were very pleased with the hotel and the type of holiday it allowed us. Firstly the staff we very pleasant and helpful whenever we needed them – I enjoyed the owners invitation to a welcome aperitif and a personal welcome. We had 2 rooms which were interconnected as requested – this worked great as the kids had their own room. Rooms were small but very pretty, perfectly clean and comfortable. Wifi signal was strong and we had no issues with the hot/cold water as mentioned in other reviews. The hotel facilities were excellent all-round. We used the pool on most evenings after a long day on the slopes and whilst overlooked from local bars it was not intimidating in any way – in fact I very much felt that the only looks we were getting were envious skiiers wishing they had a warm pool, hot-tub, sauna and steam to drop in to before dinner!" - Trip Advisor
Location