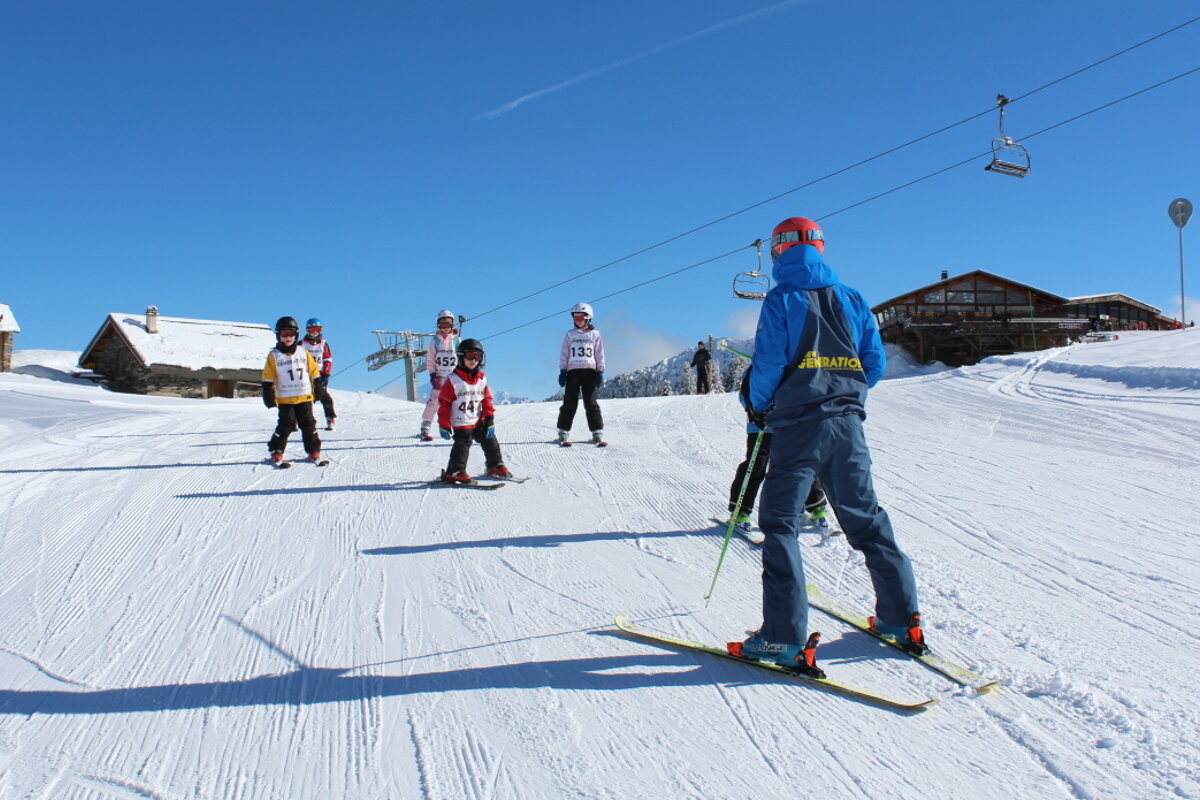 Family Holidays in Meribel
Discover insights about Meribel family holidays
Méribel is one of the most famous and popular ski resorts in the world. It consists mainly of quintessential chocolate-box chalets, and is surrounded by snowy mountains and Alpine meadows. It's the perfect playground for both adults and children.
Méribel is a wonderful place for a family ski holiday thanks to it's dedicated ski and play areas for children, top-notch children's ski schools, modern ski lift infra-structure and the wide choice of pretty Alpine accommodation. It is a fairly upmarket resort so be prepared to pay a little more for your holiday, but when you experience the facilities on offer, you will see why. Méribel has an excellent selection of ski and snow play areas exclusively set up for children - added to that are daily family entertainments organised by the tourist office during school holidays, both on and off the slopes. Various family ski passes are available - essentially, everyone pays the child rate. There are also special beginner passes and pedestrian passes available - children under five ski for free but you still need to get them a lift pass (with proof of age). Please see our Ski Lift Pass Prices page for further information.
Méribel lies in the middle of the Three Valleys ski area. The resort is spread out over several areas on a hillside, and for most of the accommodation, there is direct access to a ski slope even if you are not specifically ski-in/ski-out. This is important if you don't want to be carrying two or more sets of skis and all the paraphernalia that goes with skiing with children! You may encounter some steep slopes when walking between your accommodation and the centre of town, and if you don't want to bring a pushchair or buggy, you can hire these in resort. There is also a free and frequent bus service that runs throughout the resort. Have a look at a Map of Méribel to see how it's all connected. For a wider selection of ski-in/ski-out accommodation, the purpose-built resort of Mottaret that lies just above Méribel has a great choice of self-catered apartments on the slopes.
In addition to the top-notch skiing, Méribel can offer families plenty of activities in the Olympic Park sports centre, with it's swimming pool, climbing wall and ice rink. Many of the restaurants are family-friendly and there are several independent childcare companies that can help you with looking after the kids.
Méribel is a great option for a summer holiday as well, particularly if you are a biking family. The Alps are very beautiful in summer with hot sunny days and cool nights, and plenty of activities and events to keep you occupied.
Accommodation for families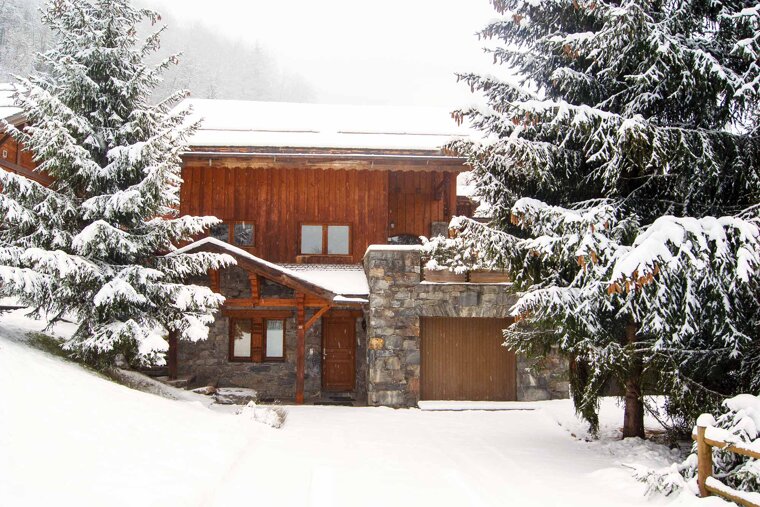 Taking the family on a ski holiday can be hard work so finding good family-friendly accommodation is essential to making life that little bit easier. Méribel and the surrounding villages have a huge selection of hotels, chalets and apartments. Many families tend to come here because of Méribel's extensive choice of catered and self-catered chalets, allowing them to enjoy that traditional Alpine ski holiday. There is also a big range of apartment rentals to suit all budgets.
Méribel Centre
The liveliest of the areas. Definitely locate yourselves here if you want to be near all the amenities and activities.
Méribel Village
A quieter place five minutes drive from the main resort.
Les Allues
Is a more charming village further down the valley, but still connected to the ski area by gondola.
Mottaret
A purpose built village with large apartment residences right on the ski slopes.
If you plan on enrolling in ski school, find out where your meeting point will be so you can choose which sector to stay in. The Chaudanne is a popular place to meet, just next to Méribel centre. For more advanced skiers who wish to explore the whole of the Three Valleys area, then staying in Mottaret will be a good option as you will have quick access to the high altitude skiing at the top of the valley. You are likely to find better value accommodation further out of town, and as there is a good free bus service in Méribel, you can still access the lifts fairly easily without having to walk too far.
Ski schools for families
If you have designs on raising the next Shaun White or Chemmy Alcott, then getting your kids into ski school as soon as possible is going to be a priority! Ski schools will not take children under three, so if you think your child is ready earlier, then you will need to teach them yourself or hire a private instructor. If you want to teach them yourself, you can find out more about the nursery and beginner ski areas in Méribel in our guide. All ski equipment (and sometimes ski clothing) can be rented at the ski hire shops in Méribel, either when you arrive or you can book everything online in advance. They will need a helmet, mittens and goggles in addition to skis (poles are not initially needed for kids), and make sure they have enough layers on to stay warm. Remember to apply sun cream to their faces before they start and place a snack in their pocket, just in case.
There are plenty of ski schools in the area offering ski lessons for children, many of them are British-run and are English-speaking. Most of the schools take children from four years old. ESF and First Tracks are the only ones who will take three year old children. ESF also offer a mix of skiing and day care as one of their packages. For three and four year olds, the focus is on having fun in the snow and games are used as part of the teaching process. They learn to ski in their own specially designed snow gardens where they can play in a fun and safe environment. No ski pass is required. For children aged five and above, you can enrol them in courses according to their level, from beginners to good skiers who are nearing competition level.
Ski schools cater mainly for weekly courses, so if you are here for only a few days then you will need to enquire at reception when you arrive to see if there is any space for your kids on the days you are in resort. The alternative is to hire a private instructor for your dates.
Ski areas for families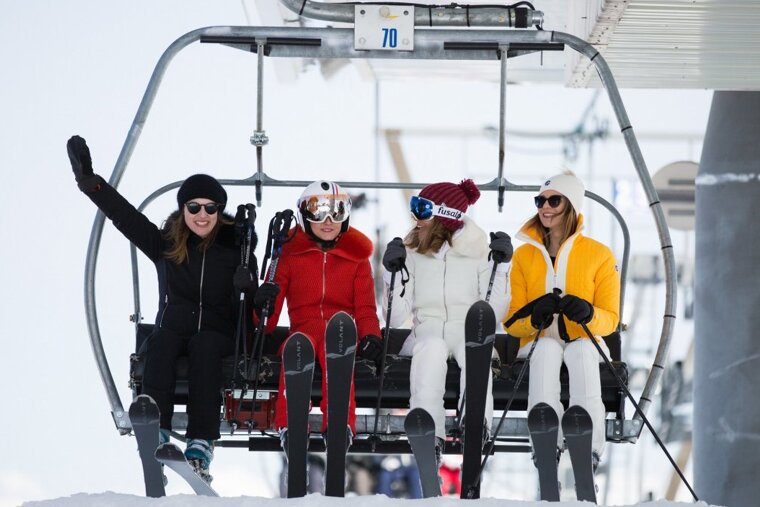 Méribel is a beginner-friendly ski resort with dedicated areas set out especially for those new to skiing.
Altiport
At the Altiport you will find a couple of green runs and two specially designed children's areas. The first one is called La Piste des Inuits which is a mini snowpark with banked turns, small jumps and slalom courses. The second is the Moon Wild piste, a trail through the trees with hidden life-size animal models to find. To get back to Méribel centre from here, there is a nice green run which is designated as Snow Cool, specifically for beginners, so no need to worry about colliding with more speedy skiers at the end of day!
Mottaret
Up by Mottaret there are more green runs and the Yeti Park, another area specially designed for families. Suitable for those on skis and on foot, there are plenty of fun things here for the whole family. There are also Ski Cool green runs here where you can practice your turns in peace and away from faster skiers. Find out more about the Beginners Ski Areas in Méribel.
For more advanced skiers, you have the whole of the Three Valleys ski area to explore. With 600km of pistes and several snowparks there is terrain suitable for everyone. Méribel lies in the middle of this vast area, and thanks to it's modern, interconnected ski lift system, it is quick and easy to explore the whole area.
There are two snow parks in Méribel and further parks in both Courchevel and Val Thorens. The Elements Park (the old Moon Park) has something for everyone, no matter what your ability. From small whoops for beginners to a boarder cross, boxes and rails for more advanced riders. The Plattieres Park, known as DC Area 43 has half pipes, a boarder cross and regular parties. There's no way your experienced teenagers will get bored here!
Activities for families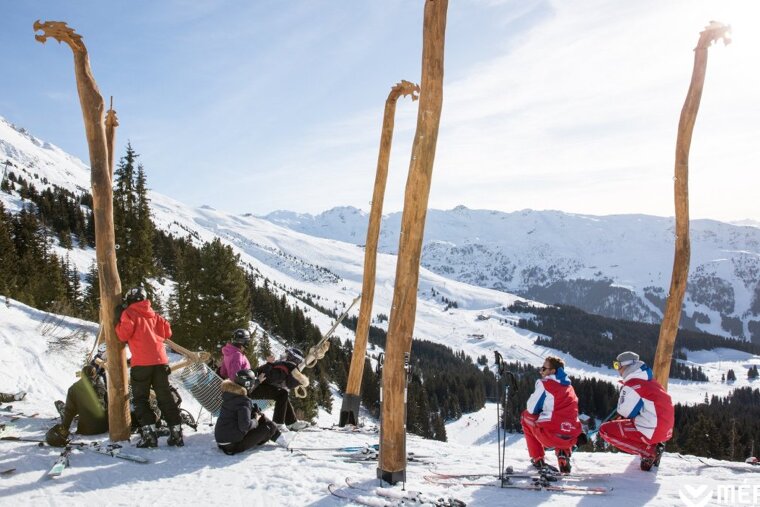 During the winter, if the kids are only skiing for half a day, then there are plenty of other activities available to keep them happy.
On the snow
Staying on the slopes, there are dedicated sledging zones at the bottom of the Golf chairlift near Méribel Village, at the Altiport, by the Chaudanne meeting point, and in Mottaret. There is a brand new adventure luge track called Mission Black Forest - a 3km adrenaline-fuelled run for the over 12's that's open every afternoon - sledge and helmet are provided! You can also go night sledging at the Yeti Park in Mottaret every Thursday and on Mondays during school holidays. The Yeti Park is a fun snow park specially designed for little ones both on and off skis during the day time. You will find caves and tunnels to explore, gongs and trumpets, snow tubing and mini slalom courses. And a yeti, of course! Two other snow-fun parks can be found next to the Altiport. The Moon Wild area has a trail that children can follow through the forest where life-size animal models await to be found. The other area here is the Inuit Village, where you'll find children's entertainers, a climbing web, swings and games. For some down time on the slopes, head up to the Altai Dragon area situated just below the Loze Express chair lift. It has hammocks and loungers and a picnic area, and a dragon hiding somewhere in the forests. Other animal adventures on the snow include husky dog sledding and horse drawn sleigh rides.
Indoors
Back in Méribel centre itself, there is the Parc Olympique which is home to an indoor ice skating rink. There is a charge for both rink entry and for skate hire. There is a 25m indoor pool right next to the ice rink, it also has a large curly-wurly slide and a paddling pool area. Also within the complex is an indoor climbing wall, suitable for children aged five and over. Other winter activities include cinema (look out for films in VOST for films in English) and a bowling alley.
Non-skiers
For adults that aren't quite so sure of the skiing, there are a number of spas for some indulgence, as well as fitness classes, or perhaps some snow shoeing. Pedestrian ski passes are available at a reduced rate so you can join the rest of your group up in the high mountains for lunch and spectacular views. If you head to the Saulire Express I gondola you can enjoy afternoon parties and cabaret at the Folie Douce bar right on the slopes. You can find out more about Non-Skiing Activities in Meribel in our guide.
Festivities
During school holidays, the tourist office organises plenty of events designed for children. Over Christmas you can expect street parades, lantern processions, carol concerts, and Santa Claus. The area at the Altiport hosts family entertainments during the school holidays, such as magic shows, bird displays and archery - all these events are free to attend. For teenagers, there are many festivals held during the winter season, both snow sports and music festivals. Check our Events Calendar for details.
Summer
Summer holidays in Meribel are all about being active and there are a wealth of activities on offer here for all ages and members of the family. Our dedicated guide to activities in Meribel includes a section specifically on kids' activities with information on horse riding, short family hikes, high ropes courses, where to go swimming, nature parks, and numerous other fun things that will help make your family holiday as unique and memorable as possible!
Baby equipment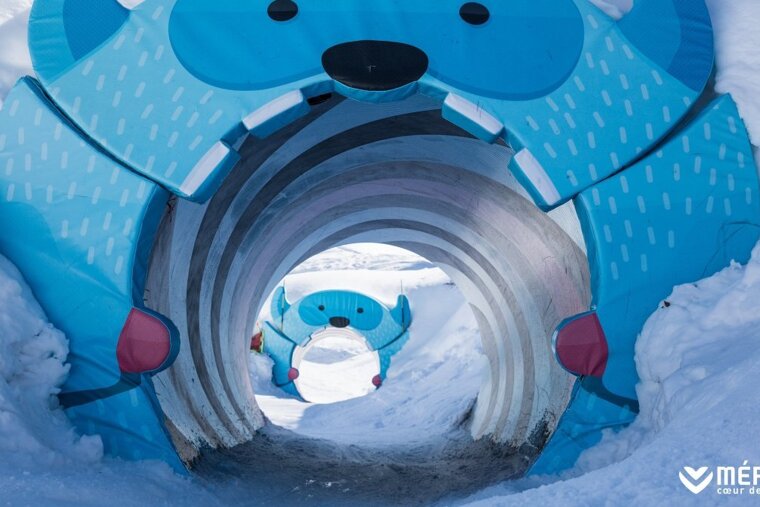 It is possible to hire baby equipment in Meribel - items such as high chairs, pushchairs, cots and playpens can be rented in resort. Check with your accommodation provider to see if they have what you need before you book. Look out for the 'Famille Plus sign in the sports shops for 4x4 buggies, sledges and snow shoes.
Childcare services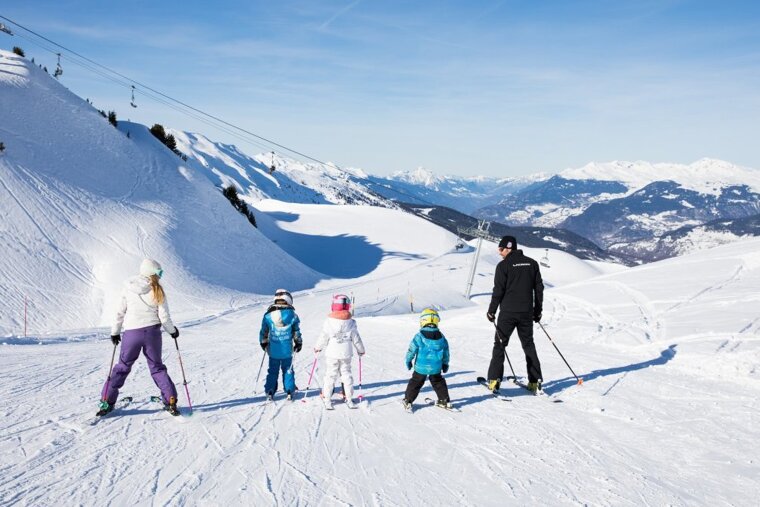 There are plenty of specialist tour operators and chalet companies who cater for families and have in-house nannies to help with the childcare. Children under three are generally too little to try skiing so some help with childcare is essential if you plan on skiing yourself. Independent nanny agencies are also available, and should be booked well in advance of your holiday. Have a look at our childcare listings page for more information or you can contact the local Tourist Offices for a list of available babysitters. There is a play area, the Kenotheque in the Olympic Park, which has toys, games, crafts and workshops (closes in the middle of the day for an extended lunch break). There is a nursery here too for children aged 18 months to three years - book well in advance.
The main winter establishments to help with childcare include the ESF ski schools who sometimes offer a combination of tuition and childcare for children three years and older. You can book your child in for full or half day programmes and lunch can also be provided for an extra charge.
You may find that the main sports centre of each town host a kids club during the summer holidays, normally from 1st July to 30th August, with activities such as swimming, climbing, tennis, basketball, ice skating, etc. and organised hikes and picnics.
School holiday dates
France divides its school holidays into a regional timetable to ensure that the entire country doesn't go on holiday at once - however, this staggered system can mean that some months (particularly February) can be busy from beginning to end as one region after another arrives in resort! Chamonix is in Zone A.
Zone A - Ain (01), Isère (38), Savoie (73), Haute-Savoie (74) Caen, Clermont-Ferrand, Grenoble, Lyon, Montpellier, Nancy-Metz, Nantes, Rennes and Toulouse
Zone B - Aix-Marseille, Amiens, Besançon, Dijon, Lille, Limoges, Nice, Orléans-Tours, Poitiers, Reims, Rouen and Strasbourg
Zone C - Bordeaux, Créteil, Paris and Versailles
For the latest school calendars check: French School Holiday Dates and UK and European School Holiday Dates