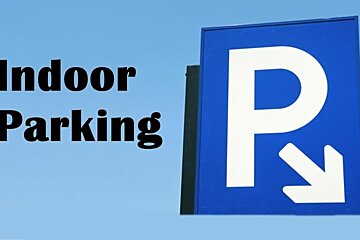 Car parking in Meribel
Discover and book Meribel car-parks
In summer you'll probably find it easier to find a space to park your car in Méribel. In winter, a covered or underground parking spot is the ideal place to leave your vehicle as it will save you all the hassle of digging it out after a snowfall, scraping your windows and trying to start a frozen car. However, parking in ski resorts can be tight and so you'll more than likely end up leaving your car outside.
Things to remember:
Traffic wardens or "Police Municipal" are regularly seen patrolling the streets on the look out for illegally parked vehicles. Parking in ski resorts can be very problematic especially during high season, so it is always worth reserving a parking space in advance wherever possible to ensure you have a suitable spot to leave your car. Foreign plates do not give you diplomatic immunity from parking fines so if you do leave your car in an inappropriate spot then you should expect to be ticketed or even towed away and impounded.
Parking fines vary from €11 to €135, with €45 being then norm. If you receive a fine through the post you have three options: throw it away (although the French authorities are cracking down on non-payment of penalties by foreign drivers), pay it, or contest it. If you decide to pay it then the sooner the better as the fine is lowered if paid within 15 days. You can do so either by buying a "timbre amende" from a tabac or tax office, attach it to the ticket and send it off; or by credit card on this website. Should you choose to contest it, then you need to complete the form attached to the fine and send it off to the Police Municipal.
Always pay attention to signs placed around parking areas in resort that may indicate a market or snow clearing taking place the following day. When there is snow to clear, ploughs show very little respect for things in their way and on more than one occasion have been known to scrape up the sides of errant vehicles causing significant damage. If you don't move your car it will be towed and left elsewhere in resort, generally on the outskirts of town.
A few tips for parking your vehicle:
Park facing downhill and turn your wheels towards the kerb to act as a brake.
Leave your car in gear with the handbrake off as it can freeze and you can snap the cabling.
Lift the windscreen wipers away from the window so that they don't stick to the glass and get damaged. If there has been heavy snowfall, clear the snow from your windscreen by hand rather that with your wipers – the weight of the snow can be deceptive and you'll probably just end up burning out your wiper motor. You certainly don't want to be without functioning windscreen wipers in winter with all the salt from the roads that sprays over your car.
Remember where you parked. This sounds stupid, but it can be very hard to identify your car under a metre of snow.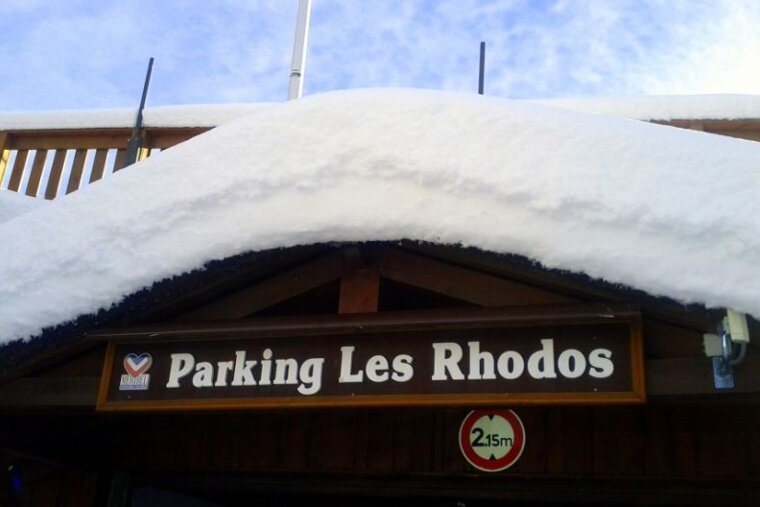 Car parks
There are a number of indoor covered and outdoor car parks and parking spaces, and free shuttles to get you around the resort once you're parked up.
For those of you driving an electric car you'll find charging stations in the covered car parks (see below). Also enquire with your accommodation provider at the time of booking as some hotels and chalets have charging points installed for guests to use.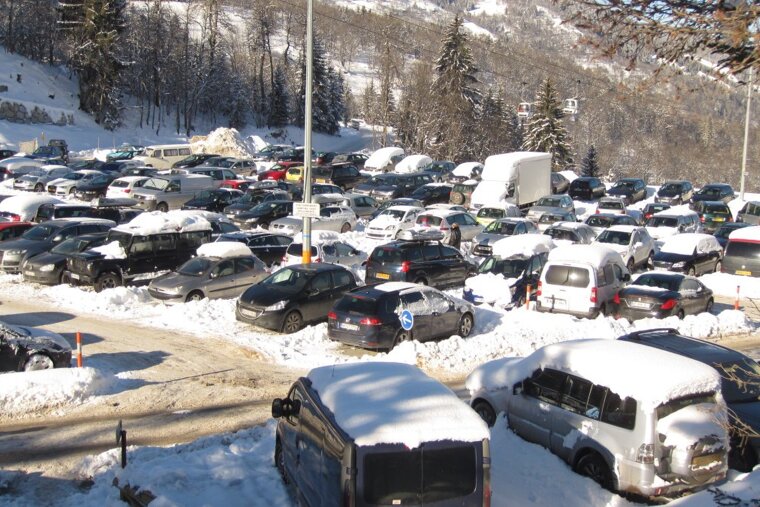 Free parking
There are a number of free parking spots in the Méribel valley, mostly available in designated outdoor car parks. Marked by a white P on the resort maps you can find the free outdoor car parks with ease. Méribel centre has seven free outdoor car parks, Méribel Mottaret has five, Méribel Village has two and Méribel les Allues has three.
If you're parking in an outdoor free car park then make sure you have a shovel in the back of your car for those heavy snowfall days, as you may have to dig your car out.
Do not park on pavements, pedestrian crossings, roundabouts or tunnels as your car is likely to be towed, and be careful when parking on the street as you may get snowed in, or worse, towed.
Please check times, dates and fees at the time of parking as these might change.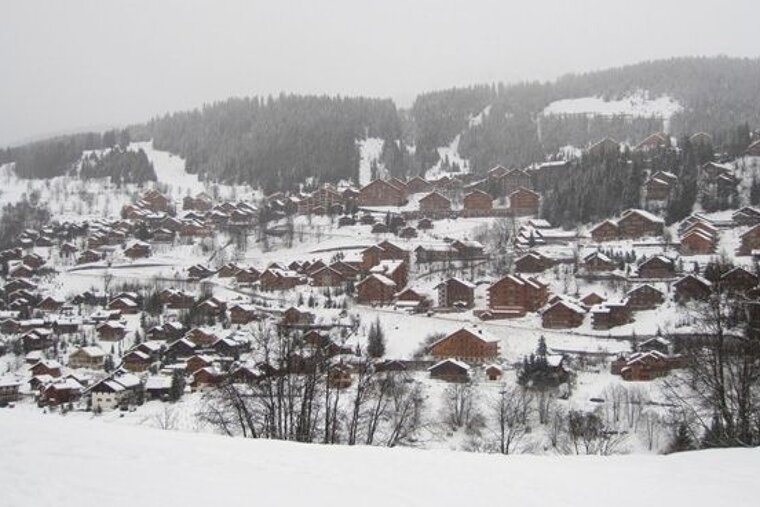 Indoor / Covered parking
There are a number of indoor covered car parks in the Méribel valley. Providing protection from the heavy snowfall and with CCTV you can ensure your car is as safe as possible. They are open from 08:00 - 22:00.
Méribel Covered Car Parks

Resort Level
Car Park
Places
Height Limit
Méribel
Les Rhodos*
214
2.15m
Méribel
Le Rond Point des Pistes*
100
2.40m
Méribel
Le Dou du Pont**
333
2.20m
Mottaret
Le Hameau*
78
2.20m
Les Allues
Le Villard*
50
2.10m
* Two spaces reserved for recharging electric vehicles. ** 10 spaces reserved for recharging electric vehicles.
Some parking limits you to a maximum of eight consecutive days. While a seven-day pass allows you to leave and re-enter the car park as often as you like while keeping your space. Spaces cannot be reserved in advance. Tickets are available from machines situated in the car parks. All car parks are equipped with CCTV. Season passes and spaces are available to rent in some of the indoor car parks.
Please check times, dates and fees at the time of parking as these might change.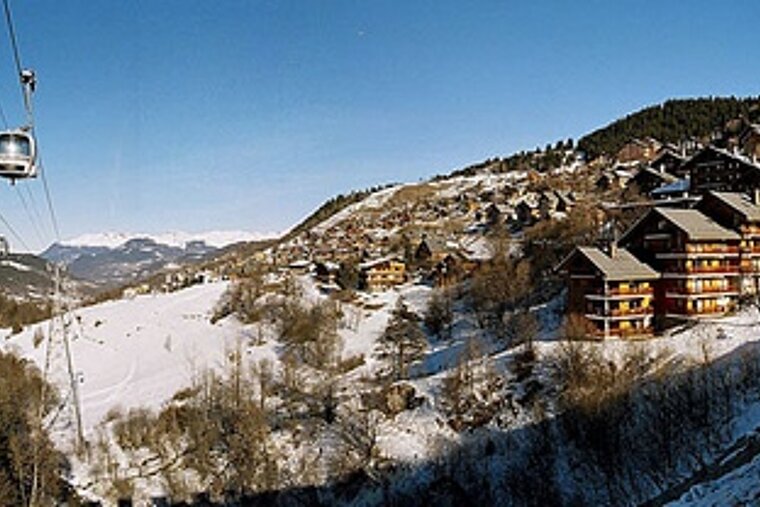 Outdoor parking
There are also numerous outdoor car parks in the resort and maximum time durations for much of the resort on-street parking.
Remember to check for the maximum duration when you buy your pay-and-display ticket from the pay machine (Horodateur). Areas near to shops (including the outdoor Ravines car park) are limited to 2h30. Car parking areas close to the Olympic Centre, next to la Chaudanne, in Mussillon and behind the Mottaret tourist office are limited to 4h30, and areas near the lifts (Eterlou, road parking beyond the Tougnète gondola and in Mottaret) are limited to 8h30.
If you park your car on the street or in an outdoor car park, remember you may need to move it after a snowfall to allow snow-clearing operations. Yellow street signs warning of 'Deneigement' will be erected to warn you of when these are to be carried out. Season-long parking is available at the Olympique, Doron, Ravines and Rond Point car parks.
Marked by a white P on the resort maps you can find the free outdoor car parks with ease. The pay and display paid parking (there can be a maximum number of hours you can stay) are found on the resort map marked by a blue P.
Méribel centre has seven free outdoor car parks, Méribel Mottaret has five, Méribel Village has two and Méribel les Alllues has three. Just make sure you have access to a shovel as after a heavy snowfall you may find yourself having to dig your car out.
Please check times, dates and fees at the time of parking as these might change.
Disabled parking
There are a few spots of disabled access parking in and around the Méribel valley. All of the main public car parks have disabled parking spaces that give easier accessibility.
Before setting off it is best to find out where the closest car park is to your accommodation and the accessibility of this car park, check out the resort map where car parks can be located by the P symbol to find out where your nearest one will be.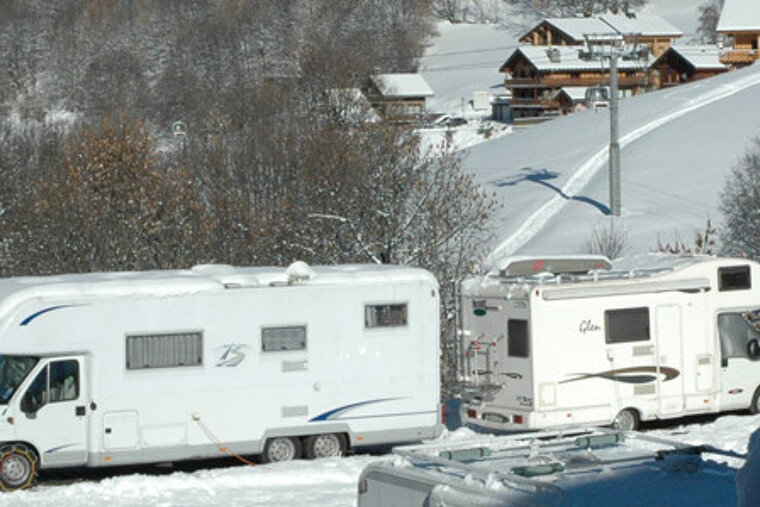 Motorhome parking
The best place to park your motor home or camper van in Méribel is down in the village Raffort. Just 2km from the Méribel centre, there is a free shuttle bus from Raffort to Méribel which runs every 40 minutes or so. There is also the Olympe gondola which will whizz you right up the Chaudanne giving you access to all the Méribel lifts, ski area and Méribel centre.
Parking at the Raffort car park is free for your camper van or motor home for the first 48 hours, after this you must move to the designated campsite area which is run by the Le Martagon.
Please check times, dates and fees at the time of parking as these might change.