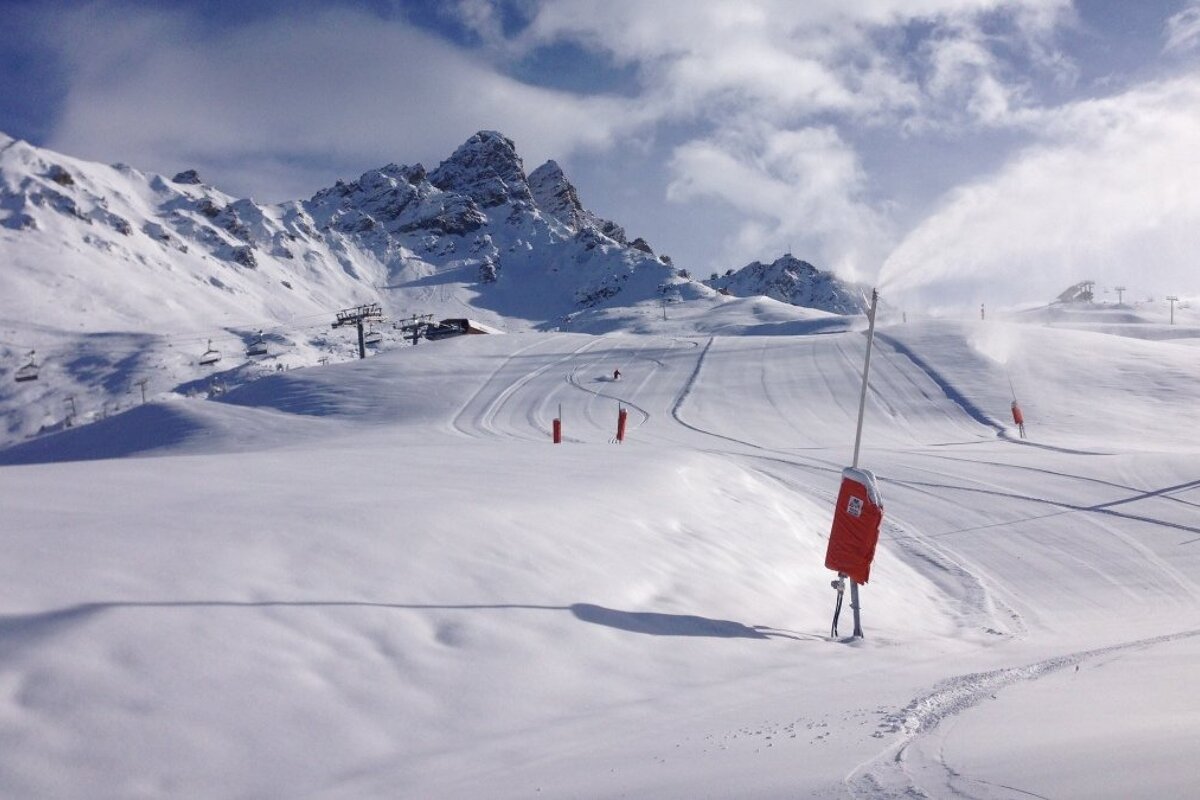 Beginner Ski Areas in Meribel
Discover the top Meribel beginners skiing
First time skiers and snowboarders, or beginners looking to improve their technique will find plenty of good areas to practise in Meribel.
Meribel is a great place to learn how to ski or to improve from beginner to intermediate. With two separate nursery areas, 8 green pistes and 25 blue pistes, you will find Meribel a comfortable and easy-going resort to learn to ski or snowboard in.
Best beginner areas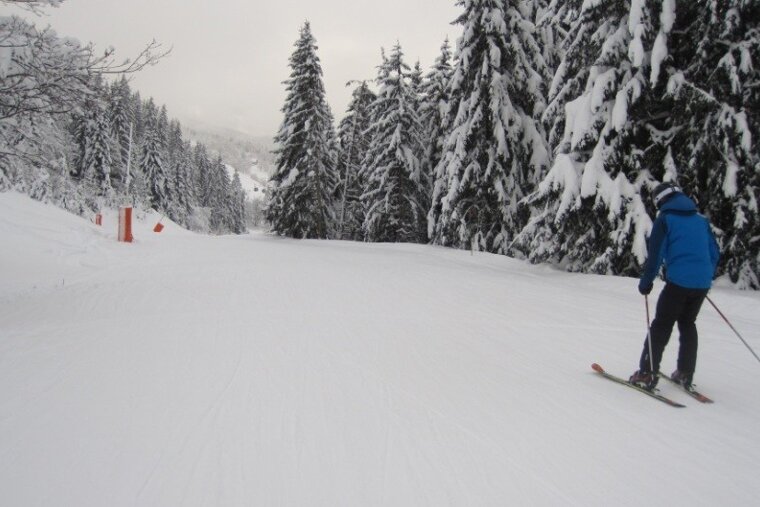 Meribel has two designated beginner ski areas with free lifts (read more about these below) which allow you to learn and progress in a comfortable beginner environment. These are located in the centre of Meribel Mottaret (Zen zone) and at the Altiport area of Meribel (Ski Cool zone).
Once you have mastered the nursery slopes and want to venture onto something a bit more challenging, there are two fantastic areas just for you. Above Meribel, the green Blanchot run now starts higher up at the top of Saulire Express 1 gondola lift and leads back to the Altiport area, or you can continue along Foret back into Méribel resort. This route is marketed as the Ski Cool route.
Meribel-Mottaret
Mottaret spent millions of euros redesigning its beginner area in 2016. There is now a special beginner-only area, with its own magic carpet and drag lift, located at the top of the resort, and the new Combes chairlift serves a brand-new green beginner run called Little Himalaya. In addition, Mottaret offers beginners two "Zen zones", easy slopes dedicated to learners where you can practice your turns in peace and quiet.
Meribel
For children there are plenty of beginner friendly areas for them to have some fun on and learn some new skiing techniques. Smallest of all is a mini boardercross with banked turns called P'tit Moon at the Rond Point, for 7-12-year-olds. To get there, take the Rhodos 1 gondola then Cotes drag lift. This is very quiet and safe for kids. The Chemin des Ecoliers is a longer and steeper boardercross for families near the DC Area 43 snowpark above Mottaret. This is more popular with adults, so be prepared to be overtaken by slightly out-of-control grown-ups. The main Méribel Moon Park has a brilliant series of whoops suitable for children located by the entrance. Look for this by the start of the Grive blue run. If you enter your mobile number at the console at the start you will be filmed going down the whoops. Children will love the Moon Wild, a themed piste with life-sized animal models hidden in the woods and a quiz about the forest animals. This starts on the right-hand side, near the bottom of the Blanchot piste.
If you are ready to progress from ski school and want to challenge yourself, there are 24 blue runs in the Meribel ski area, some of which are harder than others so it is best to do these with more experienced skiers or with someone who knows their way around the pistes.
Beginner ski lessons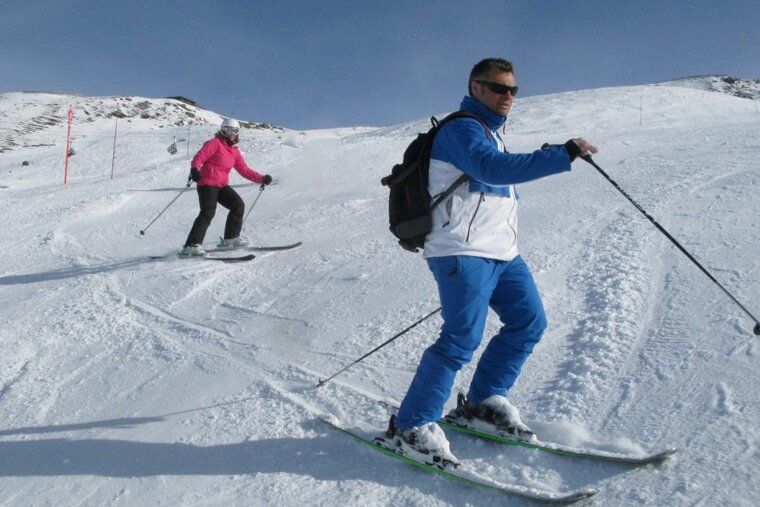 If you're learning to ski for the first time, Meribel has plenty of choice of ski schools who teach children's ski lessons and adult's ski lessons. Children's lessons are determined by their age and ability, whilst adult lessons are determined by ability and interests.
Beginner ski passes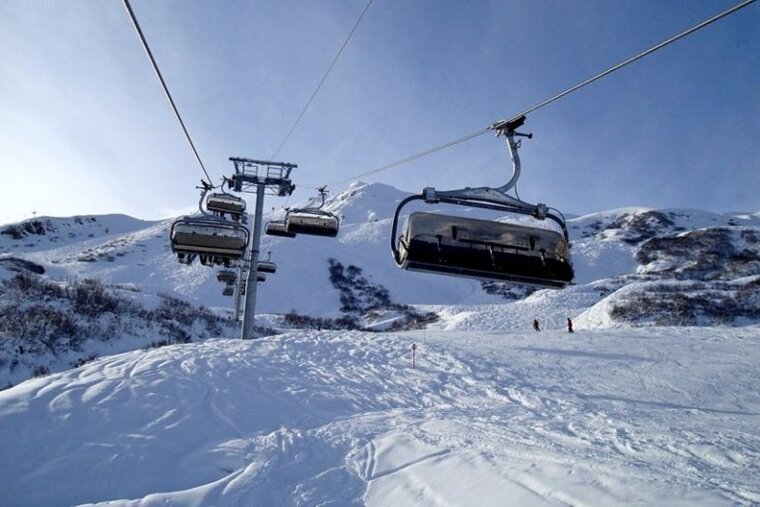 There are 8 free beginner ski lifts in Meribel - four around the Altiport and Rond Point areas and four in Mottaret.
In addition, several of Meribel's ski schools have their own private beginner lifts and easy mini-slopes to learn on. There are also special beginner lift passes, called "mini-pass", giving access to the chairlifts and slopes suitable for those just starting off.
If you're a skier looking to progress after having already learnt the basics, you can buy a ski pass from as little as 3 hours or an afternoon. You should consider buying a 'Meribel Valley only' ski pass rather than the 3 Valleys ski pass (which includes the neighbouring resorts of Courchevel & Val Thorens).
Beginner ski hire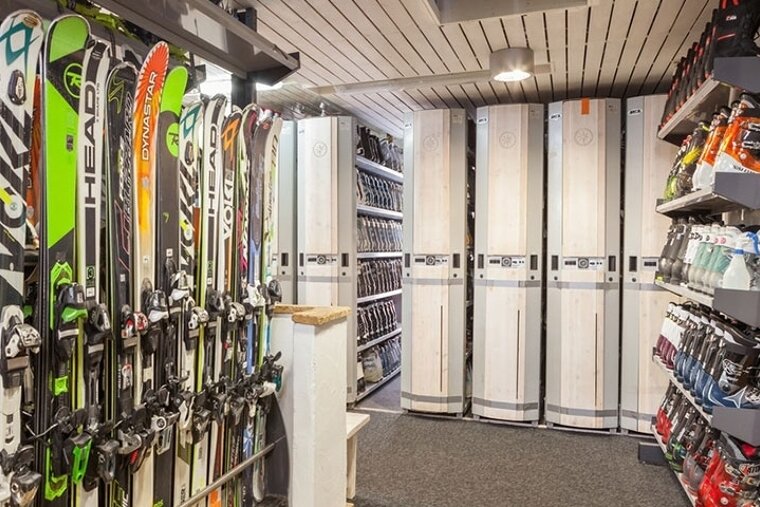 Pre-booking your ski hire in advance allows the hire shop to prepare for your arrival and smooths the process. A key thing you should consider when booking your equipment is how close your accommodation is to the ski hire shop, or to the foot of the pistes for when lessons have finished. Even if there are several equipment options to choose from, we recommend you go for the most basic. Beginner skis are short, flexible skis that are easy to turn or, if you're snowboarding, you'll have a shorter stiffer snowboard that's easier to control and generally cheaper too. You won't need to know about the technical aspects of any of the equipment as ski hire shops will advise you to get the best model for your ability and size once you've booked.
What should I wear when skiing or snowboarding?
Buying all the gear before you go can be daunting if you've never set foot in a ski resort before. The key items to bring with you, along with the obvious ski jacket, ski trousers and sunglasses, are as follows:
Layers - thermal tops and leggings, fleeces, hoodies, hats and a good pair of ski gloves and a helmet. Weather on the mountain can change pretty quickly, and you are much better off wearing layers of thinner items as opposed to a big, bulky jumper.
Socks - a variety of socks ranging in thickness, it may sound weird but in our experience hire boots can be quite painful with the wrong socks.
Sun cream - even when it's cloudy the sun here can (and will) still get you, and don't forget the underneath of your chin as the sun reflects off the snow too. Don't forget a lip salve with an SPF.
Piste map - make sure to always have one in your pocket while you're out on the mountain. You can pick up paper copies from the lift pass or tourist office once you've arrived in resort.