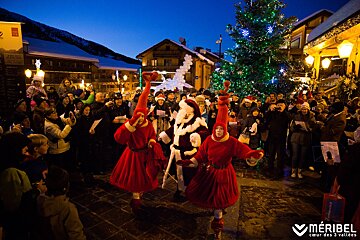 Christmas in Meribel
Can you spot Santa Claus on the slopes of Méribel
Find Father Christmas in various places of the ski area all day, during Christmas Eve
Christmas in Méribel, enjoy the great festive ambience around the resort. Smell and taste the mulled wine in the air and join in the many activities, parades, concerts and shows around the resort. Christmas markets, meeting Santa and enjoying the traditional foods eaten in France over Christmas, platters of seafood and oysters, foie gras and chocolate!
Father Christmas will arrive in a horse drawn carriage with his elves in the centre of Méribel from 17:00, accompanied by a convoy of toys. Gospel singers and a pianist will perform Christmas Carols in this magical atmospere.
Find the traditional welcome drink on the Chaudanne snow front. Santa Claus will give you the best advice to take full advantage of the ski area, around delicious chocolates, and, for the kindest, some gifts.
The ice rink will be turned into a place of worship for Christmas Mass from 18:30
Watch this
Location