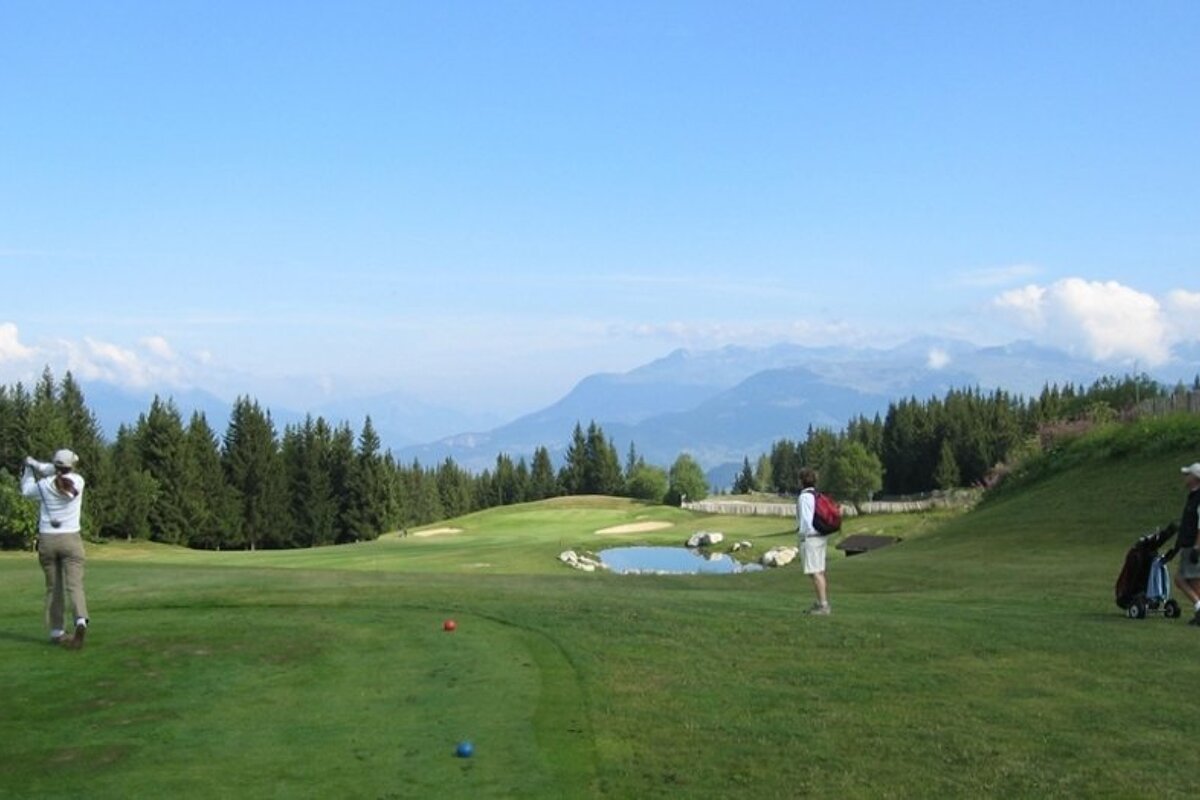 Golf in Meribel
Discover the top Meribel golf clubs
One of Méribel's biggest summer attractions is the 18 holes golf course located at the Altiport. Open from early June until October, it is often described as one of the most beautiful mountain courses in France, offering wonderful views of the Saulire peaks and over Méribel valley.
Golf in Meribel
The course is hilly, ranging from 1565m to 1850m (the top nine holes lie under the Blanchot ski piste). As well as providing marvellous views, the altitude gives golfers a major advantage: the ball flies further than at sea level. Méribel Golf Club was founded in 1966 and the 9 hole course was later extended to 18 holes. In 2004/5 the local commune financed a major redesign of the original nine holes at a cost of nearly 1.5€ million, making the course more technical and attractive. All nine back holes have been given larger tees and greens; there are more bunkers, water cascades and lakes have been added. The course has grown in length from 5281 to 5538m and has risen to par 71.
The course is open to non-members. The green fee for 18 holes is 47 € in low season and 70€ in high season (July and August) with reductions for couples, the under 20s and over 70s. A season ticket is also available: 550€ for low season and 1155€ for the whole season, with reductions for members and couples. Buggies, trolleys and clubs may be hired from the clubhouse. A free practise area includes a large putting green, bunker and chipping practise area and driving range. The golf club is generally very friendly and the secretaries speak good English. All levels of player are welcomed as are children, and there is no minimum handicap to play the course. Competitions are held throughout the summer and are open to all. Many offer competitors a lunch at the ninth hole and numerous prizes for all levels. The full competition calendar can be seen on the club website – see below.
Golf lessons are available in English from the course pro Didier Audin and his team. One-week courses are available to adults and children of all levels from complete beginner to advanced. Contact Didier Audin Organisation in Méribel on 0479085233 (tel/fax), or during the rest of the year on 0139692292.
Packages Various hotels offer packages of accommodation plus green fees, including: hotels Allodis, l'Orée du Bois, Altiport, Chaudanne-Eterlou-Tremplin, Marie Blanche, Merilys and Residence le Grand Chalet des Pistes.
Merinet Top Tips
Take a buggy unless you are superfit as the course is hilly.
Check out the club website for pictures of all the holes plus tip on how to play them.
Enter competitions – everybody is welcome. They tend to be very sociable events, and most offer wonderful prizes and generous lunches or cocktails at the prize-giving ceremony.
In high summer avoid the heat of the day by playing early in the morning.
On hot days take plenty of water with you.
June and September are often the best months to play as the course is virtually empty and the green fees are lower.