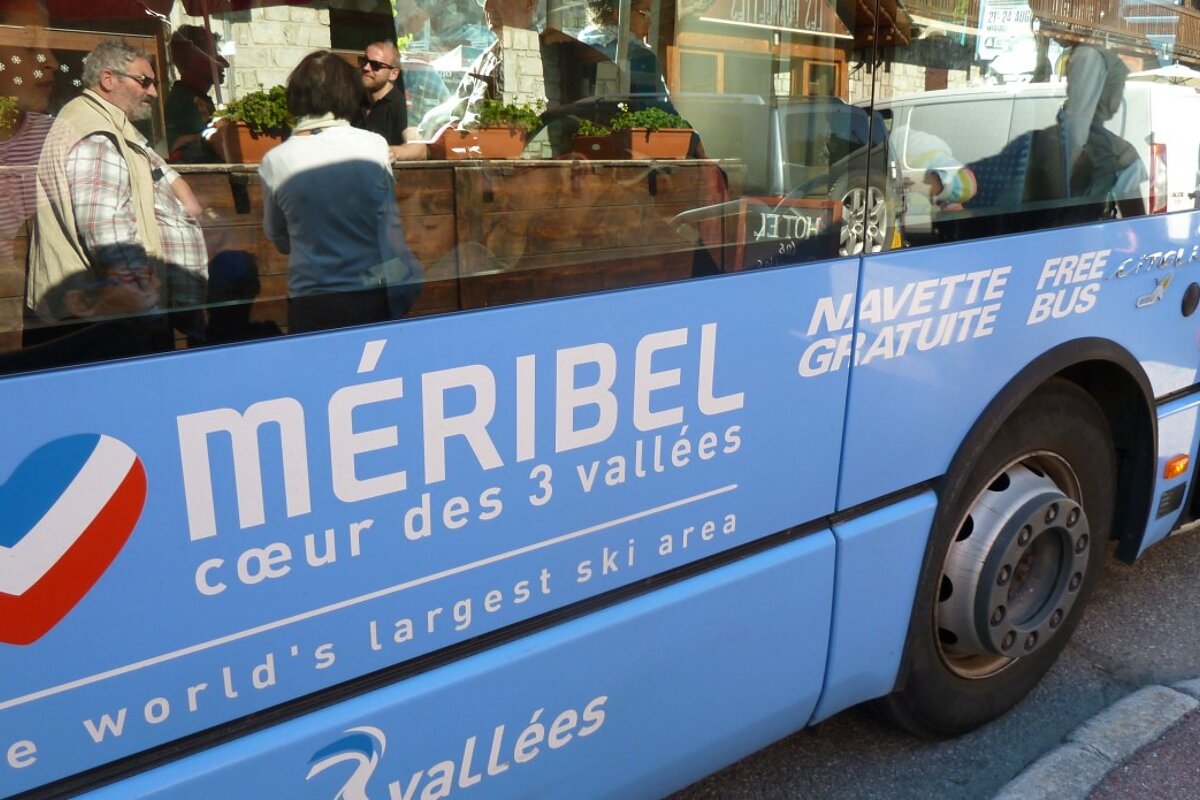 Getting Around Guide to Meribel
Once you've arrived in Meribel, how do you get from A to B?
Featured in: Buses
Updated
You're arrived in Meribel after flying, driving, catching the train or transfer bus, but how do you find your way around whilst you're here? We've put together this handy guide on the best way to get around so you can get to all the key places, and help you find your bearings quickly.
Bus
The various resorts and villages which make up the Méribel Valley are all linked by the excellent, free Meribus service (see above). In addition, gondola lifts and walking paths link several of the resort villages.
The free Meribus runs seven days per week from early morning until around midnight. It operates during winter and summer seasons but not during the inter-season periods. It can be used for getting around the resorts and villages or as a convenient way of reaching the slopes on foot.
There are three lines;
Line A links Les Allues and Méribel Village with Méribel centre and la Chaudanne main ski lift area. There are stops at the villages of Le Cruet, Chandon, Nantgerel, Le Raffort, La Gittaz, Méribel Village and Mussillon.
Line C links Méribel top to bottom, running from la Chaudanne right up through Méribel to the the Altiport. On request, this bus will make a detour to the Belévèdere hamlet.
Line D links Méribel with Mottaret centre and le Hameau at the top of Mottaret.
You can easily connect from one line to another: all buses call at la Chaudanne and Méribel centre near the Tourist Office building.
The timetable is displayed at bus-stops and paper copies can be picked up in the resort. Buses run around every 15-20 minutes during the day depending on the line and less frequently in the late evening. The timetable is slightly reduced during the first and last fortnight of the winter season.
Gondola Lift
Two gondola lifts provide an alternative way of getting around on foot. The Chalets gondola lift serves Mottaret, linking the main centre at the bottom of the resort with le Hameau at the top, with one stop midway. It runs from around 08:00 until 19:30 and is free to use.
The Olympe gondola lift links Brides-les-Bains with Méribel, with stops at les Allues and le Raffort. It runs from 08:30 to the close of ski lifts (at 17:00 in the early part of the season and to 17:30 from the first weekend in February onwards). The Olympe is free for lift pass-holders. If you don't have a lift pass, you can take it downhill for free, but have to pay to take it uphill.
For those staying in Brides-les-Bains, the easiest way of reaching Méribel is via the Olympe gondola lift. The journey takes 25 minutes and allows you to catch the first Méribel ski lifts at 9.00am. There is a direct bus between the two resorts on Tuesday evenings in winter (find the timetable on our buses page).
If you miss the last gondola lift down at the end of the day, or if you don't get the Tuesday bus service, you will need to take a taxi. By road the distance between the two resorts is around 15km and the journey takes 15 to 20 minutes. A taxi will cost around 30-40€
Taxi
Taxis can usually be found in the evenings in the rank opposite the Tourist Office in Méribel Centre. It is advisable to book a taxi in advance, especially if you want to stay out after the Meribus service ends at around midnight.
On Foot
It is possible to get around the Méribel valley on foot, though bear in mind the hills are steep and you are walking at altitude. It is worth buying some ice-grippers for your boots – these can be bought online or from ski hire shops in town.
Méribel boasts many new pavements, though in some outlying areas you have to walk on the roads. The resort is spread out up the hillside so expect a good workout going uphill. From the centre of Méribel, it should take a fit person 10-15 minutes to reach Morel and Altitude 1600, 20-25 minutes to reach le Rond Point and a good half an hour to le Belevédère.
Mottaret is similarly built on a hillside. A path involving many, many steps leads from the centre of town to le Hameau or you can take the longer but less steep, zig-zagging road up the resort. Most people use the free bus service or Olympe gondola to get around.
Most of the hamlets and resorts in the valley are linked by specially prepared winter walking paths (see maps) and it is usually more agreeable to walk along these than on busy roads. These snow-covered paths are groomed regularly and well signposted but as they are unlit, they are not recommended after dark. Winter walking paths link Méribel with Mottaret, and with the villages below the resort. Note there is no walking path or pavement between Méribel and Méribel Village – we suggest you take the free Meribus rather than walk along the busy and unlit main road at night.
Walkers can also use many of the ski lifts with a special "pedestrian" or "non-skier" lift pass. This allows you to access much of the Méribel valley including several summits and connect with other resorts in the 3 Valleys.
You are advised not to walk on the pistes for safety reasons. Sledding on the pistes is forbidden except in specially designated areas.
On Skis
Méribel, Méribel Village and Mottaret are all well linked by ski lifts and pistes. You can ski down to the villages below Méribel (Les Allues, le Raffort etc) on the red Villages run. This low altitude run usually closes before the end of the season. Brides-les-Bains can only be reached from Méribel during exceptional snow conditions, usually just for a few days each January/February, down a fairly tricky off-piste route.
Getting to the other 3 Valley resorts
There are two main ways of reaching the other 3 Valley resorts: road or ski lift. The 3 Valley ski resorts can all be reached by public, paying bus service, changing buses at Moûtiers, 18km away. In addition, there are four direct buses on weekdays from Méribel to la Tania during peak season. Out of peak season or at weekends, the easiest way to reach la Tania is by taxi.
By car or taxi, you can reach Courchevel more quickly than by bus, taking a direct mountain route. In good road conditions, allow 20-30 minutes by car to reach Courchevel and at least an hour to reach Les Menuires or Val Thorens. Foot passengers may use the ski lifts as a more direct route to almost all of the 3 Valley resorts. For this, you will need either a skiers' or walkers' lift pass.
Courchevel 1850 is easy to reach via the gondola lifts from Méribel or Mottaret. From Courchevel 1850, you can take free resort buses to the other Courchevel resorts. Les Menuires and St Martin de Belleville take slightly longer to reach via chair and gondola lifts. To get to Val Thorens, take the ski lifts to Les Menuires, then a paying bus to Val Thorens. La Tania cannot be accessed from Méribel on foot via the ski lifts – take the bus or taxi instead. Brides-les-Bains is linked to Méribel by the direct Olympe gondola lift.
Helicopter
If you are feeling flash (and flush) you can fly from resort to resort by helicopter with Jet Systems.